WARRANTY & REPAIR SERVICE INFO.
Nisimov Watch Co. Inc. provides a "3-Year Limited Warranty" repair service for Adee Kaye watch products purchased from our Authorized Dealers. Timepiece may be brought in or can be mailed to our U.S. service facility. We always look forward to serving you. Below are the guidelines that may help you deliver your watch for service.
Guidelines to Submit your Watch for Service
Send your watch to our service facility at:
NISIMOV WATCH CO., INC.
Attn: Adee Kaye Service Dept.
911 S PRIMROSE AVE, STE H
MONROVIA, CA 91016
We suggest that when packaging, secure the time piece with sufficient padding to protect your watch against impact / shipping damage during transit. Please be advise that packages resulting from mishandling , lost items are responsibility of the sender.
It is not necessary to send your watch in the original packaging as that packaging will not be returned with the item.
Insure your package for retail replacement value, and by traceable means that allows package tracking such as UPS, FedEx, or Insured Mail.
Include a copy of proof of purchase and a complete warranty card repair (if necessary). Failure to include proof or purchase will result to non warranty repair cost.
Shipping and Handling fee is required (Sending back your time piece). Cost may vary depending onto what type of shipping method you want to use. For shipping charges, estimate and quotes you may contact our Service Dept. at:
1 (213) 688-1179
1 (213) 688-1414
1 (213) 688-1154 (Fax)
Or email us at : sales@nisimovwatch.com
Make sure to include your needed Personal information (Physical Address, email address, and telephone no). This will enable us to quickly let you know when your watch was received in our facility, provide a repair estimate and to update you about the status of your watch.
Don't forget to include a complete repair form. Download forms (Attached Turnaround time varies, but generally allow up to 3 to 5 weeks from the date we receive your package. And runs about 5 – 10 business after approval and payment of an estimate.
Warranty Repair
If you are sending your time piece for warranty repair make sure to include a complete warranty booklet and your proof of purchase detailing the Date of purchase and Model No.(to find see diagram below)
All Adee Kaye time piece purchases is accompanied with a warranty booklet. A limited 3 Year warranty certified that your Adee Kaye watch is guaranteed against manufacturing and mechanical defects. Warranty does not cover malfunction or deterioration resulting from accidental damage to glass or crystal, bracelet, strap, battery, case, crown. as well as negligent use and willful tampering of the watch.
Please follow detailed guidelines to submit your watch for service.
Don't forget to include a complete Repair form. (Attached one form per time piece.)
In order to find Model No. and other information Engraved at the back case. Please see diagram below.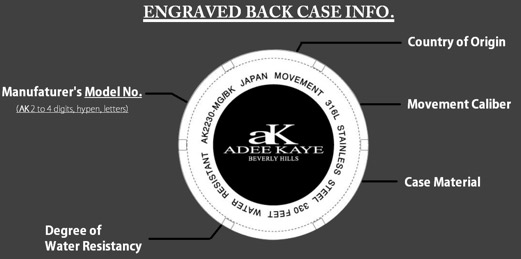 Service Repair
If your warranty has expired, we suggest to please contact our service department at:
1 (213) 688-1179
1 (213) 688-1414
1 (213) 688-1154 (Fax)
or email us at sales@nisimovwatch.com
An estimate detailing such cost will be provided to you upon contacting us prior to proceeding with the repair. Chargeable repair will not be billed to you, only after approval of an estimate. All payments can be made by mailing in a check, money order or by providing us you Debit or Credit card information, and by contacting our Repair customer representative. For some reason, we are unable to quote exact repair prices via email or by phone, such actual and needed parts can only be determined only after the technician examine and review your timepiece.
Be sure to follow detailed guidelines to submit your watch for service and include a complete Service form. (Attached one form per time piece.)
Ordering Parts
You may find all the original parts you need for your watch, by contacting our Parts Service Department,
By phone at:
1 (213) 688-1179
1 (213) 668-1414
1 (213) 388-1154 Fax No.
or email us at sales@nisimovwatch.com
Upon contacting , be ready to provide us with the ff;
Watch description (color dial, band type/color etc.)
Collection Name ( If available )
Model No. ( Please see diagram "Engraved Back Case Info." )
For ordering online please email us a complete Order Form. You may also send send it by Fax .